Ozidex Demodex Treatment
Helps You to Eliminate Mites Related to Hair and Skin Issues.
Start Treatment
With love from Australia
PROCUTiN The Miracle Product from OZiDEX
Ozidex has developed a unique product whose effect goes beyond the skin surface. By targeting the origin of skin and hair issues deep in the skin, PROCUTiN crosses boundaries and acts beyond the usual creams and lotions. Infused with all-natural, gentle herbal ingredients, this product eliminates mites that are the origin of many skin and hair problems. Demodex mites are microorganisms known to be the root of dermatological issues such as rosacea, itching, inflammation, irritation, acne, hair thinning and falling. They live in the follicles and sebaceous glands and feed on the resources needed for your health. Combining technology with nature, PROCUTiN provides a solution beyond the skin surface to eliminate mites. The primary mechanism of the product is to help treat demodicosis by targeting the mites that cause these problems.
What Are Demodex Mites?
They are microscopic parasites that live deep in the skin, inside the sebaceous glands and follicles. They travel to the skin's surface and release inflammatory substances, known to be the origin of common skin and hair problems. In addition, Demodex mites carry harmful bacteria that aggravate skin issues. Dermatitis, acne, rosacea, hair loss, blepharitis, androgenic alopecia, night itching, redness, enlarged nose, rough, discoloured skin and enlarged pores.
About Procutin
PROCUTiN is an Australian-made skincare product with all-natural and herbal ingredients. The product is formulated to target Demodex on the skin and immediate environment. PROCUTiN is gentle on the skin but rough with mites and is safe to use for a long time. This product prevents Demodex mating and re-spawning by removing all generations of mites from the surface. In addition, it prevents cross-transferring from a contagious person to others who are not. PROCUTiN prevents the rise, exacerbation and spread of Demodex mites originated issues such as acne and rosacea and is a good help in treating them.
Users Review
Ozidex Anti-Demodex Product Is Tested, Approved and Recommended by Experts.
Tam, Australia
Products work great, just need patience and time. Ozidex team very friendly and keep following up with me to see I do treatment the right way.
Betty Lou, England
If you're looking for guaranteed results under secure provision and less future fuss, the treatments will be perfect for you.
Kim, Netherlands
I've been using Procutin on my daily use and i would like to have it a bit more. Its a life saver!
Diana, USA
I am pleased with my progress so soon after starting the regimen / treatment with Ozidex products. So far so good.
Read More Testimonials
Demodex Related Skin and Hair Issues
Among a myriad of skin and hair factors contributing to skin concerns, Demodex mites are beginning to be accepted as an influential underlying factor. Recent studies have shown that these pests play a notable role in causing and intensifying rosacea. Beyond Releasing immunostimulants, Demodex is the vector for harmful bacteria and fungi that trigger multiple skin and hair issues. They may be the root of itching, a weird crawling on the skin and irritability. They can also aggravate acne, androgenic alopecia, dermatitis and hair loss. In general, Demodex plays an essential role in exacerbating and sometimes triggering dermatological problems.
PROCUTiN helps treat these complications by removing Demodex from the skin and surfaces.
Rosacea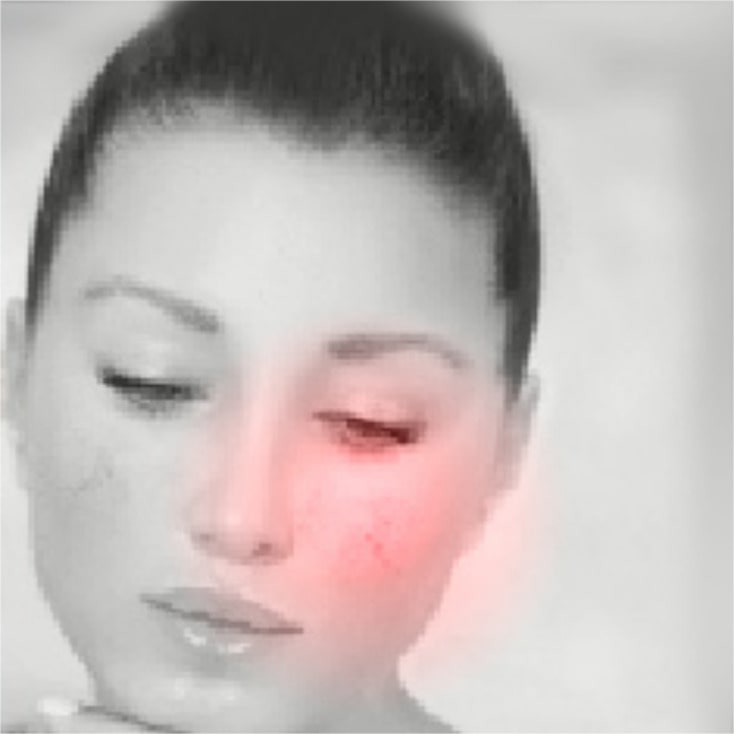 Rosacea is a common skin concern characterised by red and inflamed skin, especially in the centre of the face. Although the exact cause is still debated, genetic and environmental factors, including Demodex mites, are among the underlying factors.
Acne
Acne is a long-term condition characterised by inflammatory bumps on the skin. It may form spots, pimples, and sometimes cysts. Anything that clogs the skin pores, including Demodex mites, may lead to pimples and eventually acne.
Blepharitis
Blepharitis is a common recurrent and resistant inflammation of the eyelids that affects both eyes simultaneously. There is no definite cure for blepharitis, but elevating underlying factors such as Demodex mites overpopulation can be helpful.
Alopecia
Alopecia means losing hair from part of the head or body. It occurs when the number of falling strands exceeds the growing ones. Demodex is related to hair loss by producing inflammatory substances and consuming skin resources.
Itching
A bothersome sensation that leads one to scratch the skin. Itching can be caused by systemic or local issues. It usually intensifies at night and may interfere with sleep. Demodex may cause it by crawling on the skin and releasing inflammatory substances.
The Ozidex founder, and managing director, Seyed Behbahani says:
"OZiDEX is the latest brand within the Ungex family, which is An Australian company engaged in producing and exporting skin and hair care products. While headquartered in Australia, Ozidex offers its anti-Demodex products all over the world."
Steps to Getting Rid of Demodex Mites
Step 1
Demodex Quiz
Take our 5-minute online test to find out your Demodex mites density. If it is significant, you need to reclaim your skin and hair back in the right way as soon as possible. PROCUTiN helps you along the process.
Step 2
Order Procutin
Order PROCUTiN and have it delivered just behind your door. While you can buy it from the original site, PROCUTiN is now available on Amazon, eBay and Etsy. 100% Guaranteed Return Option is also available.
Step 3
Start Treatment
Use PROCUTiN based on the instructions. The product destroys Demodex on the skin and immediate environment. Furthermore, adhere to the unique protocol of Ozidex to see a significant improvement in your symptoms in just a few months.
Step 4
Done!
Well done! Enjoy your healthy and radiant skin and hair.